News
HMG Powder Coatings Ltd Expands Sales Team in North West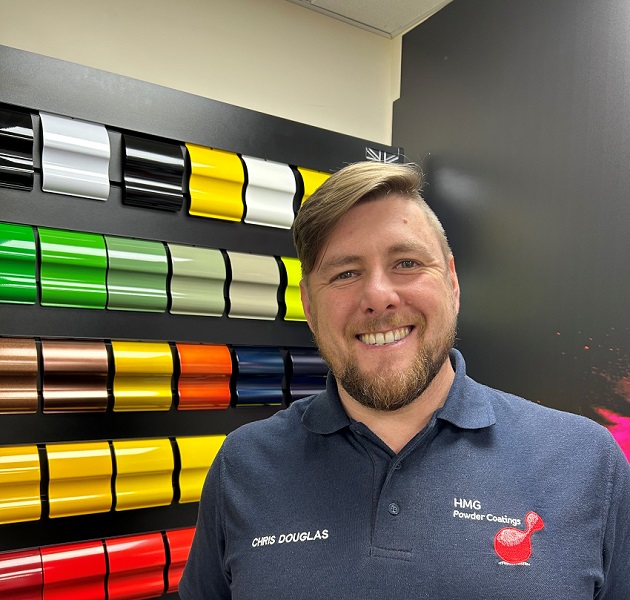 HMG Powder Coatings has recruited Chris Douglas as a Sales Executive to accelerate growth in North West of England
HMG Powder Coatings is happy to announce an exciting year with the expansion of the salesforce in the North West of England, and they've found a valuable asset in Chris. With a background rooted in building long-term relationships and problem-solving for customers, Chris is well-equipped to help HMG deliver its full benefits package to our customers.
Chris's impressive track record, having successfully managed a large Sales Territory selling Abrasives Systems and Solutions. Chris expresses his eagerness to bring the knowledge, quality, and cost savings that HMG Powder Coatings has to offer to both existing and new customers on his new territory. HIs focus on problem-solving and relationship-building aligns perfectly with HMG's business goals, ensuring that customers will receive the attention and solutions they need.
HMG Powder Coatings Ltd, already known for manufacturing and distributing its exceptional powder coatings across the UK, Ireland, and Europe, is poised for further growth. With an extensive portfolio of architectural powder coatings, the stylish Signature Finish® range, and the corrosion protection offered by Primers, the company is well-positioned to expand significantly.
Chris's arrival on the team is a strategic move that will allow HMG Powder Coatings to provide hands-on direct sales in North West England. The company's Managing Director, Denis Corry, is confident that 2023 will mark a truly exciting year for the business, with Chris playing a crucial role in their ambitious growth plans. With Chris's experience and HMG's quality products, it's clear that the North West England is in for an exciting journey with HMG Powder Coatings. This partnership promises to deliver innovative solutions, top-notch service, and a prosperous future for both the company and its customers in the region.
These 3 words best describe my personality

Which sports do you like/play?

My 2 favourite musicians/bands

Ozzy Osbourne

Guns N Roses